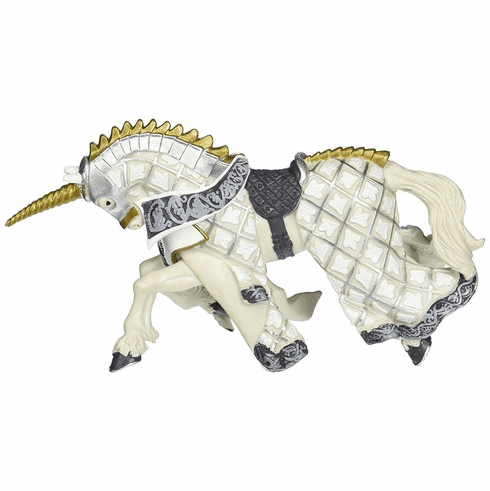 Papo - Unicorn Knight Horse - Whtie
Best attribute is the magnificent golden unicorn horn on the front of its head armor. Serves as a formidable weapon that can be used for lancing in battle.
The Unicorn Knight Horse – White #39916 measures: 3.5" T" x 6.5." L.
Papo Unicorn Knight Horse - White #39916 Review:
Its most striking feature is the golden unicorn horn on the front of the head armor, which doubles as a weapon for lancing if the unicorn war horse decides to charge. This feature adds an extra layer of excitement and action to the toy.
The combination of colors on the horse is also noteworthy, with white, off-white, silver and gold creating a harmonious and elegant look. The flowing caparison adds a touch of regal beauty to the toy, making it even more magical and enchanting.
One of the best things about the Papo Unicorn Knight Horse is its flexibility. It can rest in a rearing pose, making it ideal for display purposes, or it can rest on all fours for added playability. This flexibility adds to the toy's overall appeal, making it perfect for both collectors and kids who love to play with action figures.
Unicorn Knight Horse Information:
A medieval war horse adorned with a unicorn crest would be a truly magical sight. The horse's powerful frame and noble bearing would be complemented by the mystical and enchanting unicorn emblem, creating a unique and mesmerizing visual effect.
The horse's armor would be designed to reflect the unicorn theme, with protective plates inlaid with delicate designs reminiscent of spiraling horns and flowing manes. The colors of the armor would be carefully chosen to coordinate with the crest, creating a cohesive and visually stunning look.
In battle, the war horse with a unicorn crest would be a valuable asset to the knight riding it. The horse's speed and agility would be unmatched, allowing the knight to move quickly and gracefully around the battlefield. Its otherworldly aura would be an effective deterrent to enemies, who would be intimidated by the sight of such a powerful and magical creature.
Off the battlefield, the war horse with a unicorn crest would be a cherished companion to the knight, providing transportation and carrying supplies as needed. Its unique and captivating presence would be a source of wonder and inspiration to all who encountered it.
Part of the World of Knights Series by Papo.
Hand Painted. Made of durable synthetic material.
Product Code: Papo 39916
by Papo
Manufacturer Age Recommendation:
3+ Years

Papo Unicorn Knight Horse Silver #39916