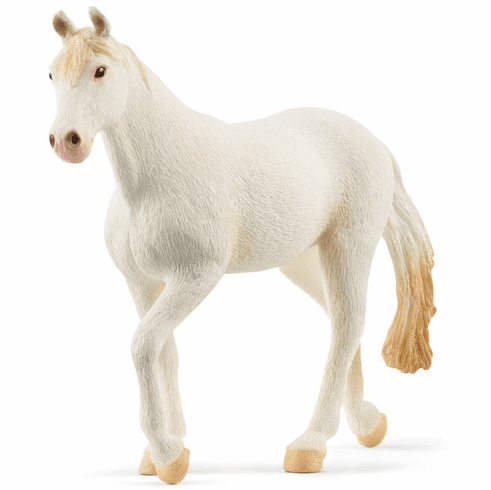 Schleich - Camarillo Mare
Striking feature is its eye-catching white coat. The predominance of white with subtle colored accents creates a stunning contrast.
Schleich Camarillo Mare measures: 5.25" L x 4.5" T.
Schleich Camarillo Mare #13959 Review:
The Schleich Camarillo Mare is a beautifully crafted figurine that is a must-have for any horse lover. The eye-catching white coat of the Camarillo Mare is the standout feature of this figurine. The predominantly white color with colored accents on the hooves, mane, and face creates a stunning contrast that is truly captivating.
The tan mane, black eyes, and pink nose and around the eyes of the figurine are realistic and add to the overall lifelike appearance of the Camarillo Mare. The figurine is well-detailed, with careful attention paid to every aspect of the horse's anatomy, from its muscular build to its distinctively shaped head.
What makes this Schleich figurine unique is that, since it is mostly white, all of the accents on the horse's face and mane really pop. This gives the figurine a dynamic look that is sure to catch the eye of anyone who sees it.
Camarillo Mare Information:
The Camarillo White Horse, also known as the Camarillo Mare, is a rare and unique breed of horse that originated in California in the early 20th century. The breed was developed by Adolfo Camarillo, a prominent rancher and horse breeder, who set out to create a distinctive horse breed with a unique appearance and exceptional athleticism.
Camarillo White Horses are known for their striking white coats, which are caused by a dominant gene that suppresses other coat colors. They have a sturdy build and are well-muscled, making them excellent riding horses. They are also known for their agility, intelligence, and gentle disposition, which make them ideal for both novice and experienced riders.
The breed is relatively small, with most horses standing between 14 and 15 hands tall. They have short, strong legs, and well-proportioned bodies, which make them well-suited for a variety of riding disciplines, including dressage, jumping, and trail riding.
Today, the Camarillo White Horse is considered a rare breed, with only a few hundred horses remaining in the world.
Product Information from Schleich:
Snow-white coat, white hooves and light pink nostrils – the Camarillo mare is a true beauty. No wonder she loves to be shown off at parades. Her immaculate coat is a true rarity. That is because all pure white Camarillos can be traced back to one small family of horses in the USA. The original stallion was called Sultan. What are you going to name this pretty mare here?
Part of the Farm Life Series by Schleich.
Hand Painted. Made of durable synthetic material.
Product Code: Schleich 13959
by Schleich
Manufacturer Age Recommendation:
5+ Years

Schleich Horse Club - Camarillo Mare 13959