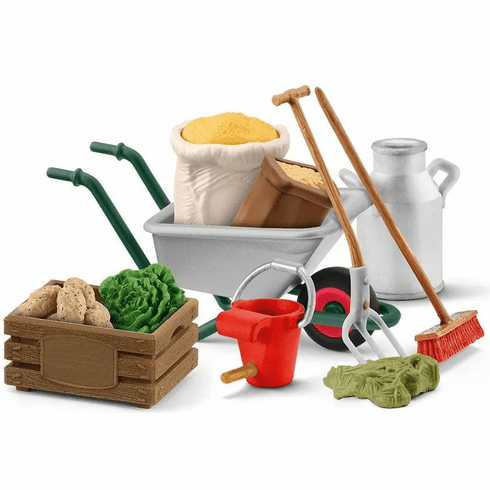 Schleich - Stable Care Accessories
The farm animals are already waiting impatiently for their food. Itís a good thing that everything is ready in the barn. Oats, hay, potatos and lettuce!
Schleich Stable Care Accessories Set Information:
With the Stable Care Accessories kit, you can provide fresh oats for your horse and a meal of potatoes and lettuce for your pigs, ensuring that all your farm animals are well-fed. Additionally, your children can engage in pretend play, imagining life on the farm while they practice feeding the different animals.
Contains: 1x wheelbarrow, 1x bag of oats, 1x bag of treats, 1x haybale, 1x pitchfork, 1x broom, 1x potato, 1x lettuce, 1x milk can, 1x feed box, 1x bucket for calf
Made of durable synthetic material by Schleich. Hand Painted.
Product Code: sch42610
Schleich 42610
by Schleich
Manufacturer Age Recommendation:
3+ years

Schleich Farm Life- Stable Care Accessories #42610