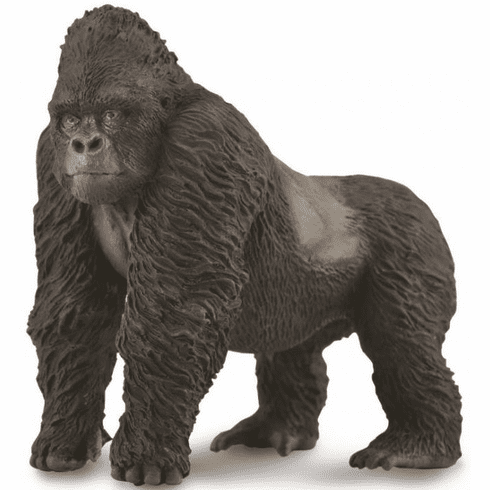 Mountain Gorilla (CollectA)
CollectA - Mountain Gorilla
High quality materials and realistic design combine into a great figure. Measures 3" L x 3" H
Mountain Gorillas are one of two subspecies of the eastern gorilla which is endangered. There are only two known populations numbering over 1,000 in 2018. The fur of the mountain gorilla, often thicker and longer than that of other gorilla species, enables them to live in colder temperatures. Males reach a standing height of 63–67 in, a girth of 54–64 in, an arm span of 6 ft 7 in to 8 ft 10 in and a weight of 265–421 lb. Females are smaller with a weight of 154–216 lb. This subspecies is smaller than the eastern lowland gorilla, the other subspecies of eastern gorilla. The mountain gorilla inhabits the Albertine Rift montane cloud forest, including the Virunga Mountains, ranging in elevation from 7,200 to 14,100 ft. Most groups live on the slopes of three of the dormant volcanoes: Karisimbi, Mikeno, and Visoke. The vegetation is very dense at the bottom of the mountains, becoming more sparse at higher elevations, and the forests are often cloudy, misty and cold.
Part of the Wildlife Series by CollectA. Hand Painted.
Made of durable synthetic material.
Product Code: CA88899
CollectA 88899
by CollectA
Manufacturer Age Recommendation:
3+ Years

CollectA Wildlife - Mountain Gorilla #88899