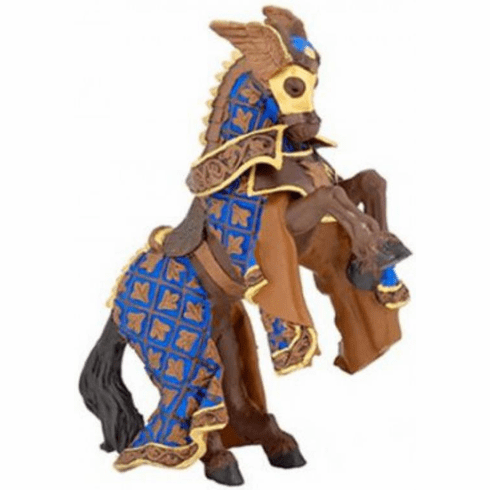 Papo - Horse of Eagle Knight - Brown
The horse's helmet is adorned with eagle wings, leaving no doubt that it is the Eagle Knight's loyal steed. Beautiful shiny brown and gold accents.
Papo Horse of the Eagle Knight #39937 measures: 3.4" T x 5.75" L.
Papo Horse of the Eagle Knight #39937 Review:
The Papo Eagle Knight Horse is a stunning figure with intricate details. The blue caparison is adorned with shiny brown fleur de lis emblems, creating an elegant look. The brown underside of the caparison compliments the brown horse with a black tail, giving it a cohesive appearance. Gold accents along the back and on the heavy bridle add a touch of glamour and provide sparkling contrast to the brown and blue colors.
The horse's helmet is decorated with eagle wings, clearly identifying it as the Eagle Knight's steed. Overall, the Papo Eagle Knight Horse is a fantastic addition to any collection, especially for those who appreciate attention to detail and quality craftsmanship.
Figure can rest upright in a rearing pose.
Horse of the Eagle Knight Information:
In medieval times, the battle horse was an essential element of a knight's arsenal. These majestic creatures were bred and trained for their size, strength, and agility. They were loyal and obedient to their masters, and were capable of charging into battle with a ferocity that struck fear into the hearts of their enemies.
One notable example of a medieval battle horse with an eagle crest was the mount of Sir Richard FitzAlan, the 14th Earl of Arundel. FitzAlan was a renowned warrior who fought on behalf of the English king during the Hundred Years' War against France. He rode a magnificent horse that was adorned with a crest featuring an eagle, which symbolized his family's lineage and noble heritage.
Part of the World of Knights Series by Papo.
Hand Painted. Made of durable synthetic material.
Product Code: Papo 39937
by Papo
Manufacturer Age Recommendation:
3+ Years

Papo Horse Of Knight Eagle #39937